Discover more from I <3 Mess
It takes a lot of money to look this cheap. Welcome to your weekly round up of the best of the worst celebrity fashion complete with my annotations.
Over 9,000 subscribers
Autumnal greetings, Messketeers!
As I slip into my second official week of full-time self-employment, I've been using this momentary lag in professional obligation to start figuring out what the hell I even want my ideal work day to look like. I've also been interrogating what exactly I imagine myself doing in a writing career that does not primarily center daily blogging.
So far that's mostly just meant attempting to instill some good habits back into my life where I've slowly expunged them in favor of speed and efficiency. I've spent the last week waking up and immediately taking Fran for a long walk while chugging a protein shake. Unfortunately, so far, this new habit hasn't radically fixed my life, but at least I don't find myself feeling angry and famished at 1pm after pushing my hunger to all-new extremes for no reason. On top of my dog walk shake, I'm now also attempting to "habit stack" other random healthy activities to fight against my natural inclination to web surf until I fuse with the couch Nip/Tuck-style. But despite the small progress I've made, drinking enough water remains my white whale.
I've also been tackling some of the most godawful tasks on my to-do list, largely in an attempt to avoid actually writing words and having to figure out what I'm doing with my life. This sudden gumption means I keep finding myself doing things like getting my flu shot and covid booster at the same time followed by a trip to the bank to set up a business account for my S-Corp. Just a full day of dull as hell activities. But at least now I'm inoculated and can officially say, warmest greetings from Mess, Inc. headquarters.
This week, my paid BFFs, the Sloppy Seconds readers were treated to an eyeful from Jada Pinkett Smith and Jojo Siwa. They also got some exclusive leaked audio of my Hailey Bieber monologue, as promised. Recording that Christian harangue inspired me to start doing more micro installments of the Good Press podcast for paid subs only, so keep an eye out for that next week. And as I've warned you, today's newsletter is slightly more abbreviated than usual, but the rest can also be found behind the paywall in Tuesday's installment. So send me $5 or ask for a comp before you miss out on a story about Noel Gallagher's traumatized cats.
As I previously said, I've been making a concerted effort to chat a bit more on Notes and it has been moderately filling an X-shaped hole in my ego. But I'm still working on finding my fashion shit-talking community, so please go interact with me over there. Or you can always join 660+ of us in The Discord where I've also been sharing some early speculative opinions on questionable apparel, as well as ample amounts of lukewarm industry goss. Get into it.
And thanks to your thoughtful feedback, I've decided that our 10K subscriber celebration is going to be a live I <3 Mess NYC extravaganza where I will somehow present this slop to you in person with no screens standing between us and you will all realize just how little I am joking about everything I say here every week. Hope to see you there in….I don't know, three months from now based on how things are currently going? Plan accordingly!
Okie dokes, time for the main attraction.
Tiktok failed to load.
Enable 3rd party cookies or use another browser
Remember last week when I naively said that things couldn't possibly get any worse for Justin Timberlake considering the post-abortion guitar strumming of it all?? Well. I was wrong. Not that my argument in favor of expelling this man from popular society needed any further evidentiary support, but between Michelle Williams's impersonation of him saying "Fo' shiz" and all the resurfaced footage of him dancing and "beatboxing," to say nothing of the FUBU and the cornrows, I think it's safe to say case closed on this lame-o. And while the fact that the photo from that day has resurfaced is deeply satisfying, I'm also going to need to hear Ginuwine's side of this story immediately.
This is exactly the type of math problem my brain is hardwired to solve. The perfect genre of illogical logic puzzle I excel at. Give me an insignificant piece of minutia and access to a Google search engine and away I go. Anyway, how I actually got to this discovery is that I was thinking about the fact that Bradley is clearly wearing these in a deeply nonchalant way. He's not trying to send some message about cancel culture or defend her or whatever, these are just so embedded in his weekly boxer brief rotation that he hasn't thought twice about the fact that Ellen undies day happens to coincide with this Gigi Hadid photo opp. So then, it occurred to me that this level of familiarity with an undergarment requires great swaths of time to establish. So I googled his last appearance on the show which is when he would've been gifted this merch, and as far as I can tell that was April 2019 in promotion of A Star Is Born and pre-bully scandal. Having underwear that old has honestly endeared Bradley to me as I too love a threadbare classic. Although I do fear that this little sartorial slip-up has already cost CooGi (Cooper + Gigi) some future double-date opportunities with Chris Martin and Dakota Johnson.
Now on the polar opposite end of the underwear spectrum is Julia Fox who appears to be staunchly adverse to the garment, returning this week in another vulva-exposing ensemble. Although, interestingly, she seems to have learned her lesson from the ice cold chastity cage during NYFW, keeping her nether region somewhat under wraps this time thanks to a jerry-rigged nude thong hidden beneath the sexy stripes of this pleather candy cane. As always with Julia's ensembles, this may not technically be any good, but who else is coming up with such innovative and holiday appropriate ways to flash flesh as the Uncut Gems' muse in this spiral parking garage ramp silhouette.
But even with all of Julia's aggressively vag-centric attire, still absolutely no one is crafting FaceTune masterpieces for the people quite like Ms. Aubrey O'Day. This classical Mess Muse hit us with yet another Halloween costume pilfered from the sex shop and I just love that in the midst of people having a full-blown satanic panic meltdown the other week over Julia's choice to wear a belt over her boobs and groin, Aubrey was out here in full-blown slutty nun garb complete with cross-laden titty triangles and an actual upside down cross on her forehead and no one said a peep. A stunning hodgepodge of nudity and inflammatory iconography as always. The angel/devil crusty white dogs in either hand have also propelled this image straight from the pits of hell to the pearly gates.
Something else I enjoyed this week was the return of Yung Lean from the cobweb-laden corners of my mind for the new Marc Jacobs campaign shot by Harmony Korine. Why him? Why now? Absolutely unclear. It doesn't particularly make me want to buy this metallic denim set either, but I do think there's a fusion between Yung Lean and Harmony's aesthetics that works particularly well, especially compared to some of the other stars featured in this campaign. And all of it is still lightyears better than the shoot Harmony did for Skims, which makes me wonder, much like when Steven Klein bombed at Skims only to go on to majorly deliver for Zendaya's Elle editorial, does Kim realize she's getting the absolute lowest quality output while paying what I'm sure is top dollar?
Now, this is what I call CATharsis. As always, my own intuition about these gals terrifies me. Because back when Kim initially posted the images of herself hanging out with Choupette, I said in this very newsletter — that cat hates her. I had no evidence, just a feeling in my heart that those two were feuding in a profound way. And now here we are, six months later, and I have concrete video evidence that I was correct all along (as always). Much like the point I was trying to make about her children last week, there's just such a small, petty joy in getting to see someone as rich and powerful as Kim have to contend with the uncontrollable. To see all of her best laid plans go up in flames. How did no one think before this moment that an absurdly spoiled cat raised by the bitchiest man who ever lived would tolerate this type of interaction for a single second? I also love that they blamed the reason Choupette did not make an appearance at the Met Gala on the fact that she just wanted "to stay peacefully & cozy at home," when the reality is that she just wanted to scratch Kim's eyes out from the moment they met. The spirit of Karl really does live on!!!
As for the 43rd birthday ensemble, I thought to myself, you know what, at least it's new Balenciaga. At least there's some side-butt cutouts and some tenuous strings and not a lick of spandex in sight. But much like Kylie at Paris Fashion Week, this new insistence on nighttime shades to complete the look speaks more to me of elective procedures than savvy styling choices.
But the fashion was the least of what was going on at this birthday party. I clocked this very interesting assemblage of guests tucked deep into Kim's celebratory carousel. I've noticed that since achieving billionaire status, Kim has found herself surrounded less and less by other A-listers and has instead been pivoting increasingly towards the uber-wealthy powerbrokers in her midst. Her family has already pulled Mr and Mrs. Bezos deep into the fold, where they will (fingers crossed) soon be joined by Meghan and Harry, and Ivanka Trump has been an instant bestie since Kim was petitioning her father to release death row inmates.
So I didn't think too much of that photo, but then I noticed the star of her new men's underwear campaign also happens to be Nick Bosa. Now, I'm no sports enthusiast, so perhaps this man is more famous than I'm giving him credit for. But he definitely doesn't have the name recognition of a Neymar. And your'e telling me Travis Kelce was too busy podcasting to capitalize further on his new relationship with an underwear ad?! I don't believe it. Anyway, Bosa is a particularly interesting choice in football player as he is extremely vocal about his love of Trump, as well as his hatred of Beyoncé whose music is "complete trash" and "has to make everything such a big political statement"………….unlike Donald, right?
I think I'm just extra highly attuned to these little reaching across the aisle branding stunts at the moment as my friend Emily is absolutely convinced that Kim is putting all of the groundwork in place for a future run for president after seeing the truly bizarre traction and seeds of chaos her ex-husband was able to sew in 2020. And unfortunately for all of us, my friend Emily is usually completely correct about these types of things. Once you start seeing the deeply middle of the road, "greed is good" political agenda she's beginning to unfurl, it's impossible not to notice the warning signs all around us. The "Kim is my laywer" branding is merely stage one of the technological panopticon fasco-Kapitalist state we're all cruising towards.
And it's no longer just Skims's sad campaign ads we have to look forward to as a new fast fashion brand has joined the KarJenner Konglomerate. Kylie Jenner announced this week that she is trying her hand at being the poor man's Fenty with the launch of yet another celeb fashion brand we don't need — Khy. I've been absolutely fascinated by the breathless response this thing has received as, in my opinion, it was clear right from the jump that Khy is just repackaged Kourtney Kardashian x Boohoo with better marketing. It's also a lot of buzz considering Kylie has exclusively shown us this oversized plastic coat photographed from roughly 50 different angles. Oh, I'm sorry, and who could forget this polyurethane mini dress you can absolutely already buy on Nasty Gal and every Nasty Gal-adjacent retailer. And not only is this entire fashion line made out of fossil fuel fabrics with the Forever 21 price tag to match, but what's even more insane to me is that you can already buy most of this stuff from the designer who actually made it all. Like just log on to Namilia.com and you can truly buy a version of everything Khy is about to release in November right now for the exact same price. Because part of the ingenious vision behind Khy is that Kylie is just hiring different indie brands to design each of these capsule collections on her behalf. Beats just straight up stealing all their designs like she and Kendall used to do for PacSun, I guess. But also hence why when asked by WSJ what the inspiration behind the brand is, she said, "Every collection is so different that probably, just like, look inside my mind." Where you will find nothing because that's not where any of the collection ideas came from and they're all so different because they were all designed by completely different people. (While we're on the subject, I'm also obsessed with her response to when she knew she wanted to design her own clothing: "I knew I wanted to design my own clothes, obviously my love for fashion, and then just creating styles and clothes that were accessible for everyone." lol wut.) Anyway, I'm interested to see if after the massive professional flop that was Kylie Swim her fans will be reinvigorated to buy her DTC Shein apparel.
And just to round out our Kardashian Korner: Wouldn't this be fun??? It's amazing to me that we live in a world filled with serious celebrity conspiracy theorists who believe that everyone is in a PR relationship and every major life event is actually a part of an elaborate fictional plot line. Because if anything, this right here is testament to the fact that unfortunately we do not. If Hollywood was actually fully orchestrated by agents and PR teams crafting dream scenarios this love triangle would really be happening because it is the tabloid narrative to end all tabloid narratives. A stunt for the ages! Think of the albums that would be sold! The Modern Family re-runs that would be watched! People might actually care what Kendall is up to for the first time ever!!!! And even so, nobody is biting. I mourn the full season of reality TV that could have revolved entirely around this social media exchange. It's like nobody these days wants to get their fucking ass up and work.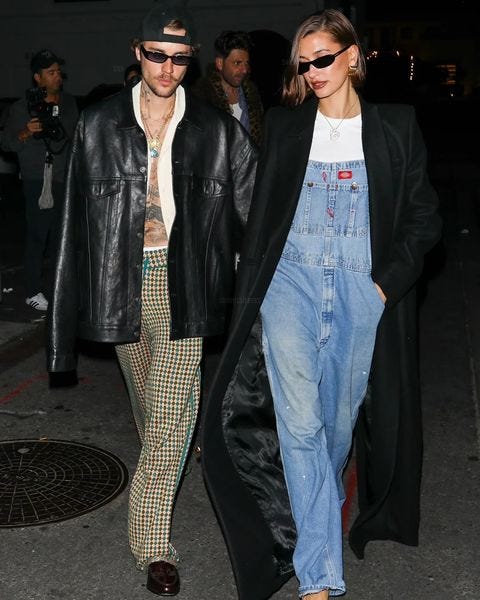 In further shockingly boring couple news, the Biebers are actually doing something that vaguely interests me for once. Now, do I think Hailey is the girl to convince me that fancy overalls should be a thing? No. This feels far above her fashion pay grade. Leave a black-tie dungaree to the Zendayas and Rihannas of this world. However! I am taken with the notion and I do fuck with the vision, I just find Hailey a little too classically and safely chic in her sensibilities to make those straps pop the way I need them to.
But it was Justin who was the real surprise sleeper hit here for me. After giving us less than nothing fashion-wise ever since committing to matrimony and the House of Drew, he suddenly decided to jack Bad Bunny's entire aesthetic for date night. Justin loves a funky pant and I feel he does best when his entire torso is making skin to breeze contact, but there's something about the choice to wear this large leather jacket slung over his shoulders instead of putting his arms through the sleeves that just makes him look like he's playing dress up in dad's clothes as opposed to channeling the louche Italian vibe I assume he was going for. Good to be reminded though that Justin still has that natural street style icon proclivity within him when he chooses to clean up.
Now, on the flip side, before I dip out of here for today, I just wanted to touch down momentarily on Travis Kelce as I need to issue a warning and that is this: Don't you dare make this man a fashion icon. I'm looking at you, GQ. You shut your mouths right now! Just because he is tall and athletic with a ~fun~ personal sense of style does not automatically give you the right to call him style-ish. We always do this with famous men who we are trying to make seem more interesting than they actually are. Just because he's shown a willingness to wear pattern and color does not mean he's a fashion plate. And if we do have to do this, at least hook him up with a professional shopper. Judging from Justin's recent sweatsuit attire, it seems like Karla Welch is available.
Tiktok failed to load.
Enable 3rd party cookies or use another browser
You best believe we are going to be talking alllll about this little highly-staged besties handshake and the Jackson Mahomes situation in Sloppy Seconds on Tuesday. And because I also told you that I would not be tolerating a revival of Taylor's 1989 "introducing the squad" tendencies, we will also be discussing her private jet usage during the early days of this multi-state romance in that email.
We will likewise be delving headfirst into all of the latest trends from Rachel Zegler's The Mummy™-themed gown to Kelsea Ballerini's diagonal slash of exposed torso (above) and the continued rise of underwear as everyday outerwear. There will also be a cheeky little micro podcast episode in there as a special treat for subscribing because I read a story about Snoop Dogg and Stevie Wonder this week and if I don't get to share it with someone I will simply explode.
I hope today's newsletter has filled you with as much joy, laugher, and serious contemplation as Addison Rae visually examining Britney's new memoir out in public.
Because your ongoing love, support, and enthusiasm for what I do here every week makes me feel as thrilled as Jesse Tyler Ferguson's husband Justin Mikita standing in front of a wall of Sofia Vergara's platforms.
Ok bye, dolls! You're cutting into pop-pop's iPad time!
Boo! This haunted hayride has reached it's natural conclusion, but if the Tower of Terror you just survived hasn't left you feeling spooked in the slightest, consider picking up a paid subscription and joining us back here every Tuesday for another very scary edition of Sloppy Seconds. Just remember that there's safety in numbers, so next time you return to this spectral realm bring some of the finest psychics in your orbit with you by signing them up for a free subscription. Or, if you don't wish to tempt the spirits lurking on the other side of that Ouija board by forking over $5 a month for this twice-weekly seance, skip straight to purgatory, also known as the ~MESS DISCORD~, where 660+ fellow Messketeers are already communing with the ethereal. And then go pick up some new MESS MERCH to cloak yourself in the dead of night.
As always, if you can't afford to pay for more, just ask me about getting a comped subscription. I promise, it's no big deal. I do it all the time. And if you send over a screenshot of your donation to any abortion or bail fund, your next month of Mess is on me.
Stay vigilant out there!