Discover more from I <3 Mess
It takes a lot of money to look this cheap. Welcome to your weekly round up of the best of the worst celebrity fashion complete with my annotations.
Over 9,000 subscribers
Howdy!
I don't have much to share with y'all on the home front this week. I'm still just deeply reconsidering my entire life, career, and personal aesthetic sensibilities. No big deal.
One bright spot, however, has been the decision to liberate my dog from her crate at night now that she has completed one whole rotation around the sun. And while I now slumber in a constant state of fear for the wood legs of my antique desk, this also means that I can give Fran little head scritches on demand without the bars of her puppy prison encumbering me. I also bought her a new bed that is way too big for her because it no longer needs to fit inside said enclosure and she is absolutely loving it. She is spending a solid ten hours a day fully sprawled and dangling her tiny little feets over the bed's bolstered edge. A sight that unleashes a pure endorphin rush in my brain like no drug ever has.
Other then that, I just wanted to make a quick endorsement for the company References who came and picked up the entirety of my purged wardrobe this week and took it away from me so that they can sell, donate, and recycle all of my detritus. This is the second time in as many years I've done this with them and I can't recommend the experience more highly. Although truly anything beats schlepping your castaways to Beacon's Closet only to be quietly eviscerated by the exasperated sighs and widened eyes of the store's employee who fully intends on paying you $3 in store credit as punishment for all the disgusting garments you forced them to examine. Like I don't want them either, buddy, we're in this together.
I've also noticed that Mess is very much floating around in the zeitgeist this week and I don't know how to feel about it. First, Addison Rae posted her new photo shoot for Pop magazine (above) in which she sticks out her tongue to reveal simply the word "mess"……..interesting. And then Alix Earle announced the launch of her new "Hot Mess" podcast that nobody asked for, and at this point I'm going to need the Gen Z girlies to get off my IP jock already.
If you are not a paid subscriber, you've once again missed out on an action-packed edition of Sloppy Seconds. This week, readers got an early sneak peek at some of my thoughts regarding a couple of temporal and sculptural pieces of apparel you will witness below. We also discussed Katy Perry's choice not to wear a disco ball kink mask that could've changed her entire life, and I issued a stern warning that the indie sleaze felt sunhat is attempting to creep its way back onto celebrity heads. If all of that sounds promising, make sure to grab a paid subscription before next week's edition hits inboxes so you don't miss out again.
Ok. Here we go, I guess
I'm thrilled to report that it happened again!!! And this time on someone who is not Julia Fox, although is equally press hungry and nude-friendly — Tinashe. Instead of exposing herself in some convoluted, conceptual iron G-string, however, she went the classic black electrical tape route, calling to mind that Miami Swim Week collection I featured here back in July. The Black Tape Project has officially hit Hollywood! Pretty wild stuff. Wilder still that some of my most outrageous fashion predictions are suddenly manifesting before our very eyes. Although, I can't believe that the D-list still hasn't taken me up on my very obvious suggestion to deploy a merkin and save themselves the hassle of a lip slip.
As for this absolute non controversy that has been unfurling in twenty parts over on Page Six all week, you know people are just mad because the joke's not funny. But what I don't care for is how weirdly naive this cyberbullying is as to how the entertainment industry actually works. Because what I see in this photo is very obviously a brand ambassador selling the hell out of her Omega watch, the company that almost certainly gifted her these seats in the first place and that pays her multiple millions of dollars a year to go places and do things exactly like this. I see a professional timepiece salesperson getting paid the big bucks to sit how human sit.
Speaking of watches, they're trending this week. No, not the accessory, but rather the accessory worn as apparel. Julia Fox, who just last season was draping herself in all belts, all the time, has now moved on to the horological, as has Olivia Rodrigo in her new Rolling Stone editorial. Personally, I like the way this trend aggressively confronts the viewer with their own mortality — in that we are all slipping closer to death every second — but as I already told Sloppy Seconds readers, I think both could do a little better on the watch diversity font. And both also fall very short in the face of Cardi's "Money" watch-fit — the blueprint. However, my main complaint is actually that both these women are wearing this many watches and not a single watch brand is paying for it??? What's the point! Take a page out of Nicole's book, ladies, and get yourself a check before smothering yourself in wristwatches ever again. I mean, Rolling Stone are you trying to run a business here or nah?
And I meant what I said. I appreciate the slight level of effort that went into this fully staged image. It's a set up, sure, but it's not your run-of-the-mill "caught" walking down the street looking fabulous paparazzi self-report that most celebs are engaging in these days. She gave us context, she gave us narrative, she crafted the illusion of happenstance — candidness even! That is if you don't think about the logistics of acquiring such an image for more than half a second and realize that Megan and Harry have been talking about eating at this In-N-Out by their house for years now without ever being photographed there. So why the sudden change….what is Megan up to as her Netflix and Spotify deals crumble around her? This image makes me incredibly suspicious that the blind items are true and she really is on the hunt for some sort of classic A-list actress brand of fame on top of the plain old royal stuff. My only note for the next time the Duchess decides she wants to pull one of these little PR stunts is maybe try some where you're not so perfectly in focus, maybe some options without a full-on senior photo smile.
Since I'm already asking the tough questions, I've got another one for you: How much money does Ugg have devoted exclusively to its street style advertising department? Because they consistently land some of the best, subliminal model placements I've seen. Nobody is working harder to get famous people's feet into sheepskin-lined booties than they are. Trust me when I say that now that I've opened your eyes to the wide world of pretty girls inexplicably clad in furry footwear, you will not be able to stop seeing Uggs everywhere. It's not like they're even doing anything groundbreaking with this, I just find it fascinating how few brands are able to do this type of product placement successfully.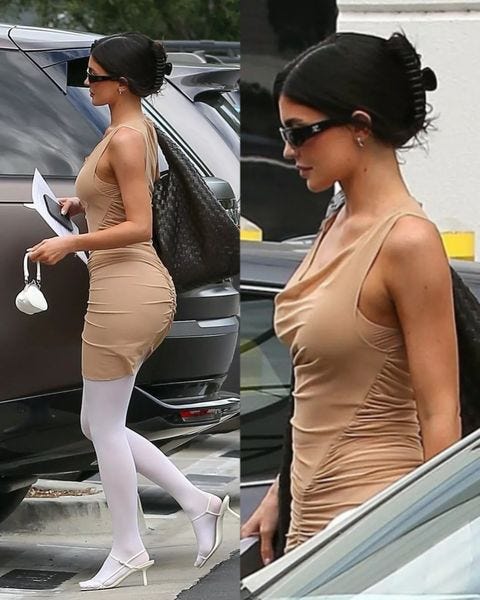 And sorry, but one last very important Q for you all, which is who does Kylie's current fashion makeover remind you of? Because I think I finally placed it…….Something about this whole outfit tipped me off to what's really going on here, and it certainly wouldn't be the first time that Kylie Single White Female'd a famous contemporary with better style, although this is a particularly disturbed one. But tell me that Kylie's new aesthetic, especially in the image above, is not extremely Lily-Rose Depp inspired. Maybe it's just that Kylie's trying to incorporate more quiet French luxury into her look, but regardless it absolutely reads as Timothée's ex nepo baby.
I also noticed that one of the Kardashians' classic early relationship tricks totally fell flat on its face this week, which is always nice to see. I don't know if that's a sign that we're finally getting hip to their stunts or just that no one has the bandwidth to feign interest in their silly little ruses right now. But for those who can't crack the sartorial riddle featured above, Kylie is wearing a very oversized men's button down shirt, the suggestion presumably being it's borrowed from her new beau. As though anyone would ever believe that's Timmy's actual shirt size.
Kim is likewise suddenly back on her Balenciaga bullshit. Not to say this apparel is bullshit, but rather her insistence on extreme formulaic dressing is. I continue to be baffled by her belief that the foundation of her entire empire does not actually depend on her wearing increasingly scandalous and "newsworthy" apparel. At the very least, where is the styling? What about these outfits has been strategically chosen to differentiate them from the way we've already seen them presented to us on the runway? And why must I always be forced to see the leg of some piece of Skims leisurewear peeping out from beneath these floor-length coats. The extreme Skims of it all is also my problem with her return to her usual long-sleeved Balenciaga gown at this Kering Caring for Women event. This is a semi-sheer dress and yet she's still compressed in full body hosiery to within an inch of her life. Where is the flash of flesh? The aggressive sex appeal of yesteryear!!! At a time when every famous person and their mother is exclusively wearing underpants, how can we not get Kim to give us even one cheeky G-string on a red carpet. My suspicion is she thinks she's already successfully made the pivot that Kylie is currently attempting to maneuver via her relationship with Timmy and believes she is now officially in her classic Hollywood icon glamour bag. However, she's missing a key part of this formula — the A-list actor boyfriend legitimizing that pivot and guaranteeing a coveted invite to the Oscars red carpet. No matter how hard Kim tries to channel this final frontier of fame via extremely staid luxury dressing, this is unfortunately not a level of legitimacy she's going to be able to manifest through boring outfits alone. But the good news is it seems like Bradley Cooper is going to need to find a new beard to usher him through this next award show season, and I happen to know just the gal for the job……
Ok and this is a random aside, and yes I am deeply familiar with this family's history of boundary-less relationships with their sisters' past and present significant others, but even so there's something about copying a necklace design very much synonymous with your sister's nazi ex-husband that is just SO weird. Actually, now that I'm looking at it properly, so is including your niece's name amongst your children's as though Dream does not have a real mother who is very much still in the picture. Honestly, this piece of jewelry is giving me way too much insight into Khloe's psyche, I gotta bounce.
And here's your periodic reminder that when you work with designers you shouldn't (Nicki Minaj in Dolce left, Anitta in Wang right), you always get exactly the gowns you deserve.
Another reminder that just because it's designer vintage doesn't necessarily mean it's any good. My deepest apologies to my love, my light, Jean Paul Gaultier, but they can't all be bangers. Thankfully EmRata is too hot for anyone to actually accurately take in what she's wearing.
But on that note, I should also briefly point out that no one has figured out the power of well-deployed, less obvious vintage than Olivia Rodrigo. Because not only is this outfit perfectly in line with the 90s sexy school girl thing she's been doing, but it's also conceptually perfect. This look comes from Todd Oldham's Spring 1995 collection and was worn by Amber Valletta and Shalom Harlow to close the show. While that runway moment gets reposted a lot under "#friendshipgoals" type captions as the two models come out holding hands at the end, you also can't help but read Harlow stepping in front of Valetta before sashaying hard to catch up with her on the runway as a tacit, friendly reminder that she's more than capable of eating her alive in an instant if she wanted to. And in light of Olivia's maybe there, maybe not feud with T. Swift, I find that to be an extremely enjoyable fashion parallel.
Back at the VMAs, Doja picked up right where Lourdes Leon left off on the Victoria's Secret pink carpet and it's not much more successful this time around. At least Lourdes's web was fully crystalized which made the barely-there fabric feel elevated, whereas this just looks like Doja walked through a bag of fake Halloween spiderwebs. I get that Doja has been on Spirit Halloween time promoting this new illuminati album, but I think this needed to be much heavier and more richly constructed to really work. I did, however, clock that flesh-tone thong peeking out underneath, furthering our journey down the road towards Hollywood becoming a full nudist colony.
Equally naked was Doechii, whose outfits I usually love, but this Dsquared2 gown was not it. It would've been nice if she could've at least pulled something vintage from the brand's heyday instead of Fall 2023, but I understand the Caten twins need to remind people that they still exist. It also seems like they never actually fit this sample to her body because it looks like she had to leave the top completely untied in order to accommodate her boobs as on the runway this had way more torso coverage and none of this drapey-ness in the front. At the very least, they could've let her ditch the sock monkey arm warmers for all the trouble they put her through. But there is something kind of powerful in the nonchalance of pairing a trucker hat with an evening gown for a red carpet event. It's also one of the singular early aughts trends celebs have yet to be brave enough to attempt to revive. Doechii might actually be on to something here
I cautioned you last week that no matter how patently insane it may seem, where Julia Fox goes, celebrities are sure to eventually follow. And now we've once again received concrete evidence of that hard truth in the form of Bebe Rexha in this very furry-friendly peekaboo butt cheek gown. I maintain that we literally never need to introduce luscious tails into an evening wear situation, but I'm surprised it's taken so long for this particular Fox-sanction fit to catch on. The main problem here, however, as a Discord member pointed out is that the designer failed to adjust their work for Bebe's more substantial posterior, thus throwing the butt to hole ratio completely off. Just because an outfit is press bait doesn't mean it shouldn't also fit well!
I've been monitoring them all year and shoulders are somehow still getting even wider. Demi Lovato modeled a particularly aggressive set with a wingspan easily two-thirds of her body length. Meanwhile, Yung Miami added a Shen Yun sleeve to her bumper car shoulder pads and French-cut briefs. The thong here is actually a nice reminder that even more thrilling than removing fabric is tacking those same extra yards back on somewhere else they don't belong. Now that I've said the positives, however, Caresha absolutely chose the wrong pair of shoes for this look and these shades are extremely 2008 Gaga on the cover of The Fame.
Something else we talked about in Sloppy Seconds this week is how it seems like in addition to disappearing entirely, dresses are also starting to move in a more sculptural direction. It's not a bad tactic in a tabloid environment where nudity doesn't get you as far as it once did. I feel like a little design drama still has the potential to generate clicks if correctly deployed. And I'm always down for something like Anya Taylor-Joy's dress that offers an all-new perspective on the shape a human body should be.
Fashion week also made it crystal clear that we're headed smack dab into a Hot Diaper Autumn. As I've mentioned the past couple of weeks, this look is the natural evolution of our pubis-centric ways. We're taking underwear out from under the sheer skirts and mesh maxis into the light. The feminine urge to be infantilized etc., etc. Just kidding, I actually really like this look, although I do think there's much cooler ways to do it than all of the above.
In other fashion week updates, now feels like the right time to share with you a conspiracy theory I've been trying to get off the ground for a couple of years now. Essentially, it is my belief that Michael Kors's entire design career is powered solely by his hatred of women and desire to punish them. Thus explaining why his clothing does what it's doing above and why his bags are the way his bags are. Feel free to proliferate this fabrication amongst your own social cliques if it's also struck a chord within you.
Now, a man who has not been trying to make me suffer this week is Lil Nas X who I feel really gets this fashion moment. He doesn't always get it totally right, but at least he understands what today's red carpet is demanding of him. I think his bridal Palomo Spain look at the VMAs was great, save for the lug sole boots which needed to be swapped for something more streamlined. I also think a pop star with a Bible as a prop is a little too basic satanic panic. But despite historically being someone who's over-reliant on a headpiece to make an outfit interesting, I think this one actually really works here (probably because it came with the outfit down the runway). The Rick Owens heel is also a little tired, although I appreciate seeing it in sandal form as I feel we never get that style on a famous man's foot. And finally, Chanel needs to smarten up and sign itself a new ambassador immediately. Get this man and Kendrick together in a room and let them make your brand relevant again. This is easily the coolest Chanel has looked since the 90s.
Anyway, I also want to know absolutely everything about Guy Pearce's crystal necklace and what he believes it's doing for him. I did a quick google to see if I could find the answer and it appears zero other people are trying to learn more about this hot topic and I find that very hard to believe……on second glance, is it possible it's actually a glow stick??
And finally, before I let you go for good on this crisp Friday afternoon, I just need to ask you one last thing: Is this your "quiet luxury" queen?!
(Lord save us from a 2013 fashion blogger revival.)
Ok……well……I've got some very important phone calls to make, so I'll talk to y'all later.
Bye, friends!
Another Friday, another absolutely flabbergasting edition of I <3 Mess. Despite my best efforts to repulse, it seems you and your iron-clad stomach have once again made it to the conclusion of this calamitous newsletter. So since you're clearly a glutton for punishment, allow me to suggest doubling your weekly intake of swill by signing up for a paid subscription. And since we're already throwing pearls before swine, why not get together a sounder of the finest hogs in your life and sign them up for a free subscription today. If you'd like to add some additional reading material to line the pig pen, but don't have the extra cash to finesse it, go on and join the ~MESS DISCORD~ where 650 fellow porkers are ready to dive headfirst into the muck and the mire right beside you. And don't forget to bring along some Mess Merch to swap out for your mud-soaked attire afterwards.
As always, if you can't afford to pay for more Mess, just ask me about getting a comped subscription. I promise, it's no big deal. I do it all the time. And if you send over a screenshot of your donation to any abortion or bail fund, your next month of Mess is on me.
Time to get ripped!